Load Tester PRO™ 5.1 Released
Fast on the heels of the initial 5.0 PRO release, 5.1 is a major upgrade that includes support for mobile load testing, a completely resigned load test design and control system, improved support for dynamically scalable websites, Internet Explorer 10 support, and portal license manager integration.
Mobile Load Testing
The increasing web traffic from mobile devices has been noticed for years, but how much does it really effect a website? A recent study shows that 7% of web traffic is from mobile devices, which includes both phones and tablets. Because these devices use different browsers, and sometimes access different versions of a website, they put a much different load on a website than desktop users. Load Tester PRO™ fully supports mobile-based web browsing with the most accurate simulations that exactly recreate every aspect of mobile web access, including both the number of sockets and caching behavior. Check out the new video tutorials showing exactly how to do load testing of web access from iOS (iPhone/iPad) and Android, below.
The other big trend in the mobile space is native phone and tablet applications, running the gamut from games to weather to business apps. Load Tester PRO™ 5.1 makes it really easy to configure test cases from native mobile apps without requiring that the device is jailbroken or recompiling the source code. This video shows how easy it is to configure a native Android application, but the process for iOS is just as simple.
Dynamic, Visual Load Configuration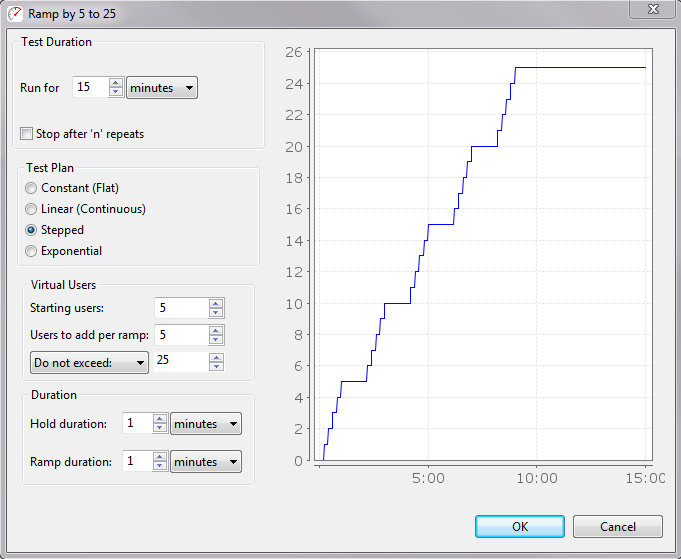 The load test configuration GUI has been completely rewritten so that the user can immediately see the ramp in the number of concurrent users. Test plan configuration starts by choosing the test duration and one of four test styles: constant, linear, stepped, or exponential. The effects of the rest of the parameters, such as starting users and ramp duration show up immediately in the chart.
Ever get to the middle of a test and change your mind? Now you can change the test style as many times as you want during a test, or even pause the test at its current number of simultaneous virtual users while you make changes to either the test or the back end.
Support for Dynamically Scalable Websites
Running a huge test against a dynamically scalable web cluster, either at a datacenter or in the cloud, has never been easier. No extra configuration is needed as extra servers are brought online during a test. This release has been also been extensively tested with scalable cloud-based systems such as Amazon's Elastic Load Balancer (ELB).
Dynamic Hostname Load Balancing
Load Tester™ has had support for spreading virtual users among different IP addresses assigned to the same hostname since the 4.0 release. The 5.1 PRO release adds support for polling for DNS changes during a test to pick up new servers that have been dynamically added after the test has started.
IP Fail-over
This new feature emulates a browser's ability to automatically reconnect at a different IP address for a hostname if the site is unreachable at the intended address.
Improved IPv6
Load Tester™ now supports more intelligent protocol selection, so users can switch between testing IPv4, IPv6, or both.
Upgrades
If you've purchased Load Tester PRO™ in the past three months or have a current support contract you'll be receiving a free upgrade in the license portal. If your support has expired you can still get all of the benefits of the new 5.1 release by purchasing either Basic or Premium support.