Web Performance Tester 6.5 release
If you've been following the quick pace of development of our real-browser features, we know you'll be excited about these new features:
Extract values
Data in the browser can now be extracted into a user state variable for use later in the testcase.  Read more…

 Organize testcase steps
The steps in real-browser testcases can now be organized into hierarchical groups for better readability and easier maintenance. Read more…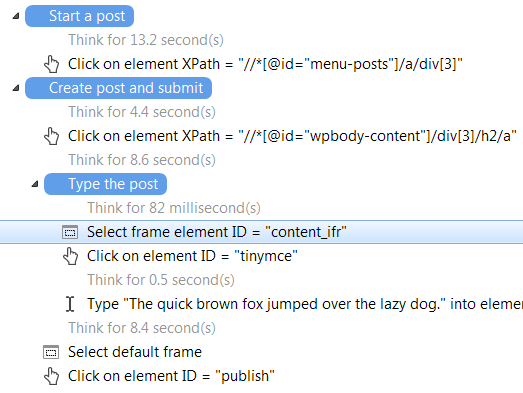 Improved selection from choice boxes
Drop-down choices now support selection by position in the list (i.e. index) and by the option value (a hidden attribute in the HTML). Read more…
New API for downloaded files
A new API has been added to our scripted step support to provide access to downloaded files. Read more…
Firefox and Chrome support updated
The 6.5 release adds support for Firefox 33/34 and Chrome 38-39.
Quickly locate cookies in HTTP testcases
We have not forgotten about virtual-browser (HTTP) testcases – the testcase editor has a new feature that makes it easy to locate and inspect cookies throughout the testcase.
Chris Merrill, Chief Engineer