Organize Steps into Logical Groups in Real Browser testcases
With Web Performance Tester 6.5 (WPT), you can easily organize the steps in your testcases into groups to make them easier to read and maintain. You can create groups within groups with no limit on the depth. This example shows three groups – the 3rd (Type the post) is contained in the 2nd (Create post and submit). The fourth group, not shown here, includes all the steps in the testcase (i.e. the entire testcase is a group).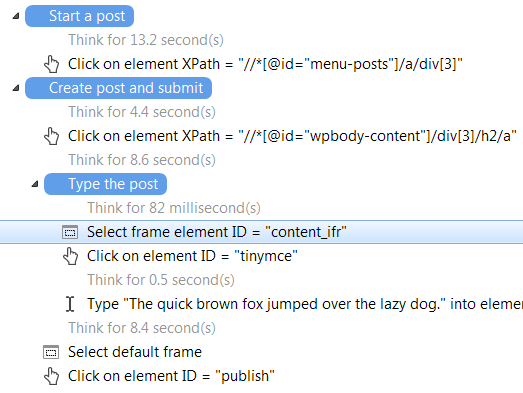 Increased productivity and editing on-the-fly
Create groups just like any other step – add a step and change the type to Group. Quickly create your groups using cut-n-paste or drag-n-drop. You can even make these edits while replaying a testcase, allowing you to reorganize, improve or correct the testcase on-the-fly! (However, the replay must be paused).
Automatic grouping while recording
Your productivity is always on our minds – so we've incorporated some basic grouping rules into the real-browser recorder. While you browse your application, the recorder will watch for changes to the page title or URL. Each change starts a new group and the page title becomes the name of the group.
If you have suggestions for improving your productivity even further, please comment here or contact us. Or tell us whatever else is on your mind 🙂
Chris Merrill, Chief Engineer