Load Tester 6.0 Beta 2 – Real Browsers
Load Tester 6 introduces an exciting new capability: generating load with real browsers. This technology, leveraging the Selenium/WebDriver project, brings a number of important advantages:
Testcase configuration and debugging is more intuitive
Test results accurately describe the end-user experience
Testing very complex and sophisticated AJAXy applications is much easier
Here is a pic of what a testcase looks like when using real browsers for testing. We hope you'll agree that it is much more intuitive: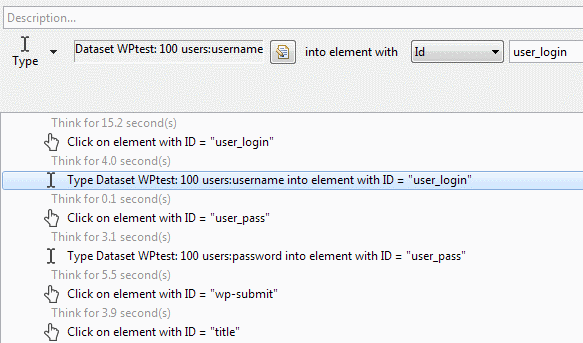 We are confident these improvements make Load Tester a more efficient and pleasant tool to use – but now we want to hear what YOU think about it!  Are you game? Fill out the contact form and mention "6.0 beta":
I'll get back to you with the download and documentation details.
If you are thinking about it, but not quite sure, here a few more points to help you decide:
Do you like to live on the leading edge? This is it!
This is definitely a BETA release. You should expect bugs, possibly serious ones 🙁
The documentation is still a work in progress, but most of the product works like previous versions. If you have already used Load Tester, the new docs may be adequate for your needs. If you have not, they you'll need to consult our older documentation as well for general Load Tester usage (i.e. anything not directly related to real browser testcases).
If you have used Selenium/WebDriver, you will likely be comfortable with configuring testcases and with the biggest challenge in real-browser testing: locating elements on the page. If you need help with that, consult the documentation and then please don't hesitate to contact me for help!
The first release of the real-browser features in version 6 is only the beginning. We have a long list of features and capabilities to add, but we really need to hear from you – both to catch any critical features we've missed and to help us prioritize those features.
We only have real-browser engines in the cloud available for this version. While these engines can run virtual-browser (HTTP-level) testcases, they are not optimized for it.