Load Tester 5.4 Released!
Our goal with Load Tester 5.4 was to build the easiest to use load testing tool, even if you had no experience with load testing. It should just make sense when you look at it, with every button in the right place and all of the right information at your fingertips. We've spent most of 2013 reworking the user interface, trying out several different ways of doing the normal load testing workflow, until it both looked great and let us get load testing done as quickly as possible.
But of course, user interface improvements weren't the only changes: we threw in some other choice improvements like:
It helps that the software engineers at Web Performance also use our software for load testing consulting, so we have to use what we build. Any part of the testing process that isn't efficient not only wastes our time, but costs us money, so we have a huge incentive to build an efficient tool.
Never-the-less, when you use software every day its difficult to step back and see it through the eyes of someone new to testing, so we performed extensive user testing, not only asking customers what they wanted, but watching them while they worked, so we could see what was actually working for people. The improvements you'll see are the result of many discussions and sample designs, keeping the advanced features, while making it easier for new users to come up to speed.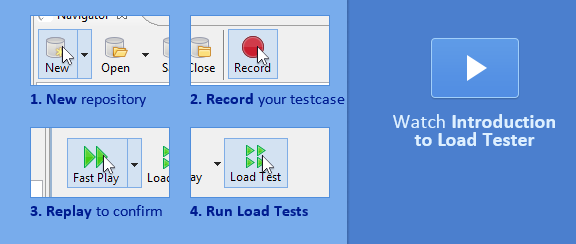 We hope that both new and old users will be delighted with the changes, so please let us know how we did.