New Load Tester feature – web page performance goals
Load Tester has supported the concept of a performance goal for quite a while, but the implementation has been rather limited. We have completed work on an improved version for our next release (3.6). Load Tester now provides the ability to set a performance goal for each web page and/or transaction in a testcase individually. Of course, you can still specify a global page performance goal, as you could in the past. In addition, users can specify a default page (or transaction) duration goal for an entire testcase and then override that value for each page or transaction. The performance goals may also be deactivated entirely for any page or transaction. The testcase editor also shows a warning symbol for any page or transaction that fails the performance goal, in either the recording or subsequent replays.
In addition, the Load Test Report has been updated to visually indicate the goal on relevant charts, making it easy to see when the average or maximum duration recorded for a page has exceeded the performance goal: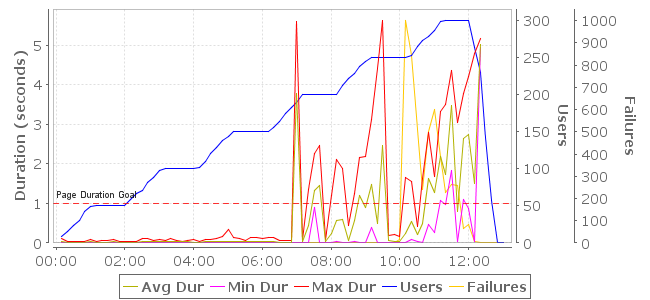 Work is underway to incorporate this feature into the product in other ways – I hope to be able to blog about those Load Tester enhancements very soon!