Distinct Think Time setting for Virtual User Pacing
Load Tester 6.7 includes a new option for Virtual User Pacing. When configuring Think Time Generators (Window > Preferences > Web Performance > Think Time), the new checkbox is labeled Distinct – Allow users to have distinct paces. This applies only to the random variation generators. When turned on, it changes how the random variation range is applied to think time.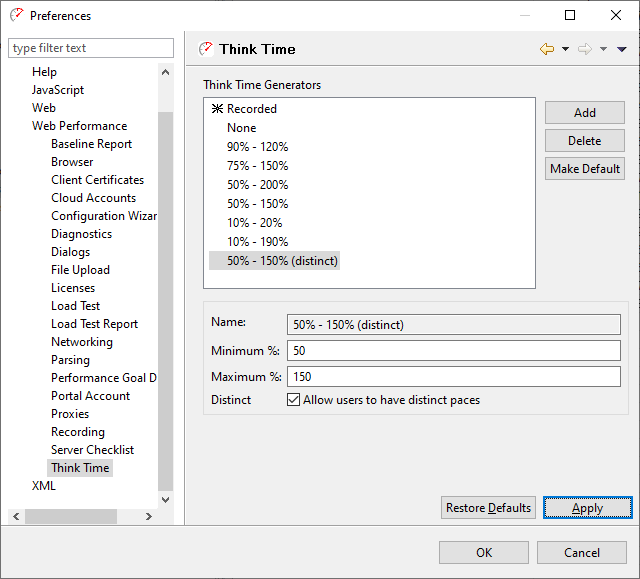 When turned off, the think time generator will function as it always did – for each think-time encountered, it will vary the think time (as configured in the testcase) by a random value within the configured range. When turned on, a random value within the range will be selected for a Virtual User and that same, distinct, variation will be used for all think times for that Virtual User.
Why this change?
The purpose of the random think time generators is to create a more natural behavior for the virtual users. Part of the goal is to prevent users from clumping together in unnatural ways and the other part is to allow them to spread out when problems in the target system cause users to become synchronized. However, the statistical nature of this approach means that as the number of pages in the testcase increases, the total testcase duration for the virtual users will tend to approach a common value.
What is the effect
Turning on this distinct option makes some VUs slower and some faster throughout the entire testcase (rather than just a single page) – meaning that the entire testcase duration will be shorter or longer within on the random range configured and will not tend to average out. This spreads users out in a more natural way, especially after a synchonization event in the target system that causes user to bunch up.
As always, if you have any questions, please don't hesitate to contact us!