Debug real-browser tests with breakpoints in QA Tester and Load Tester
Since the first release of real-browser support, it has been possible to pause a testcase replay using the pause button. If you need to stop in the middle of a long testcase, however, it can inconvenient to sit and wait for the important part. Web Performance Tester™ (WPT) now supports breakpoints in real-browser testcases. To set or clear a breakpoint, select the step and choose "Toggle Breakpoint(s)" from the pop-up menu. The breakpoint will be indicated with a matching pause icon on the step.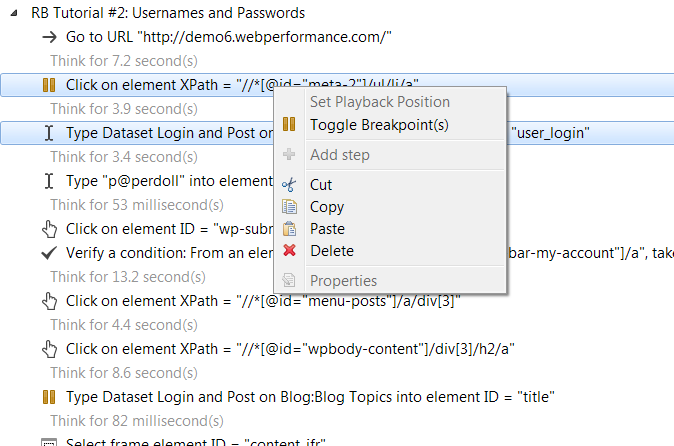 During interactive replays, the virtual user will pause when it reaches any step with a breakpoint. The testcase can then be restarted using the play or step buttons.
A few additional notes:
The breakpoint is saved with the testcase – it will be remembered next time you open WPT.
Because breakpoints are saved with the testcase, other users who open the testcase will see the breakpoints.
Breakpoints are ignored when running multiple testcases together and during load tests.
Multiple selection is supported – you can toggle breakpoints on several steps at a time. In the above example, the breakpoint will be turned off for the first selected step and turned on for the second – effectively moving the breakpoint form one step to the other.
Look for this feature in the 6.4 release of QA Tester and Load Tester – coming in October!