Web Performance Load Tests Race Car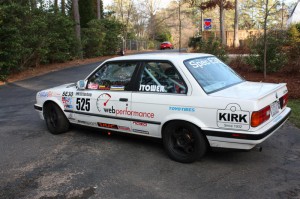 At Web Performance we're interested in things that go fast, whether they're websites or cars, so it's only natural that we are sponsoring Jason Tower's inaugural road racing season in his BMW Spec E30. As a rallycrosser myself, I'm excited to be involved with grassroots racing as Jason – pardon the pun – stress tests his E30 on courses from VIR to Mid Ohio to Road Atlanta. He's so good, he can turn left AND right!
The Spec E30 concept is cool: drivers compete based on their driving skills, not their wallet, which is where you get the "spec" part of the name. Each car is allowed only a specified number of modifications so that each driver is racing a car of similar capability.
I'll be posting updates on the season, starting with his first event on February 13-14 at CMP with NASA. In the meantime, here are some pictures of our shiny new logo on Jason's newly prepped E30.